Help in the kitchen from Down Under
Jul 04, 2012 11:35AM ● By Scott Blackwell
The oil can is a classy, drip-free way to store your favorite oil in the kitchen.
Most of us are guilty of buying some clever-looking kitchen gadget on a whim. After a few uses, it's then moved to the back of a drawer or cabinet.
Not so with at least a couple of items from Curtis Stone. The impetus for the Australian chef's product line was born some six years ago during filming of his Take Home Chef series. He found most people's stuffed with the trendy specialty gear, but lacking in daily essentials like adequate knives and cutting boards. Since then, Curtis Stone Kitchen Solutions has grown to more than 200 pieces.
Stone's Go With the Flow Oil Can is prettier and more functional than its name implies. The stainless steel container is available in 16 and 24 oz. sizes, $60 and $70, respectively.
Its elongated spout allows a well-controlled pour into a hot skillet or salad dressing bottle without the slightest drip. Thanks to its elegant design, the "can" has found a permanent home on our countertop. Perhaps best of all, our larger plastic bottle of oil hidden away in a cabinet no longer needs a paper towel under it to capture ongoing drips from regular use. An oil can fill up will last most kitchens several weeks.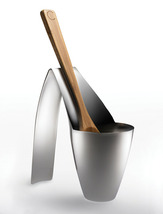 Almost as useful is the Keep it Clean Spoon Rest (ceramic, $30; also in stainless steel). The smaller footprint and upright design means less clutter on the countertop. Surprisingly, it's also easier to find an upright spoon than one lying on the counter during the cooking process.
Its design also allows the cook to put water in the spoon rest, so a quick rinse between stirring several different pots no longer requires a side trip to the sink.
For more information, visit curtisstone.com