A different twist on Surf & Turf
Jun 27, 2012 04:18PM ● By Stacy
Spicy tuna roll and lamb chops
Spicy Tuna Roll
Ingredients (per roll)
2 oz. Ahi tuna
2 strips English cucumber
2 strips red pepper
1 sheet Nori
6 cups Tempura batter
0.1 oz. Mizuna
0.2 oz. sesame sticks
0.2 oz. wasabi peas
½ oz. toasted sesame vanaigrette
salt & pepper to taste
wasabi pepper sauce
Wasabi Pepper Sauce (for multiple servings)
2 T miso paste
½ cup wasabi powder
1 cup warm water
1 cup fresh wasabi
2 oz. soy sauce
1½ T white pepper
Incorporate all ingredients to a smooth texture.
Toasted Sesame Seed Vinaigrette
1 cup wihite sesame seeds
1 cup black sesame seeds
3 cups rice wine vinegar
1 cup sesame oil
8 cups olive oil
3 T kosher salt
2 T tahini
Toast sesame seeds, comine with vinegar, sesame oil and salt in stainless steel bow. Gradually whisk in olive oil to emulsify.
Tempura Batter
2 cups all-purpose flour
2 cups rice flour
4 cups soda water
1 egg
Lightly whisk ingredients to somewhat lumpy texture, like pancake batter.
Method
Dip the nori in water then lay flat on a preparation table. Line the nori with a couple of rows of tuna, peppers and
cucumbers the same way you would fill a burrito. Roll as tightly as possible without tearing the nori. Once the nori has dried slightly, dip lightly in tempura batter, being careful not to overcoat. Flash fry (usually less than 2 minutes) in deep fryer. Cut into ½-inch rounds and place around the plate symmetrically. In the center of the plate place a composed salad of the greens, sesame vinaigrette, wasabi peas and sesame sticks. Top each cut roll with a drop of the wasabi pepper sauce.
Lamb Chops
Ingredients (per serving)
3 lamb chops
3 oz. seasonal veggies
1 T mint-cherry compote
½ oz. basil oil
salt & pepper to taste
Mint-Cherry Compote
2 cups fresh mint
2 cups dried tart cherries
1 cup sugar
2 cups red wine
2 cups cranberry juice
Mince mint and halve cherries. Combine all ingredients in a pan on low heat to reduce to desired consistency.
Basil Oil
1 lb. basil
2 cups extra virgin olive oil
salt to taste
Stem and cook basil in salted boiling water for 15 seconds then chill in ice water. Squeeze out excess water and blend in blender with oil and salt. Let stand for up to a day before straining through chinois or filter cone. Let gravity and patience do the work.
Method
Grill chops to desired temperature. Sauté seasonal veggies in butter, salt and pepper. Center on plate so bones are bending outward. Top with the mint-cherry compote and surround with basil.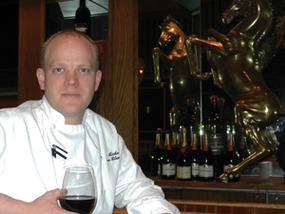 – Johnson & Wales culinary school graduate Michael Von Blomberg is executive chef at Crowne Plaza Albuquerque and its iconic Ranchers Club, where he continues, "strengthening the restaurant-farmer relationship within our community." His 16 years of experience includes working for celebrity chefs Joanne Killeen and George Germon in Providence RI, and the internationally acclaimed Al Forno Restaurant.